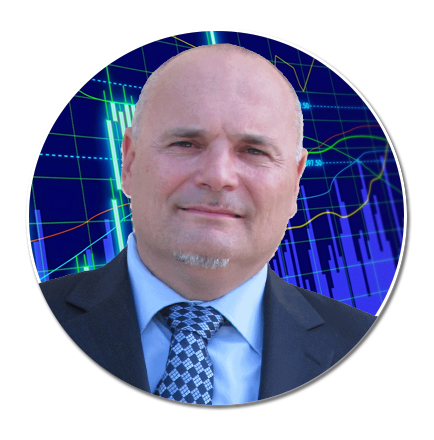 Saverio Berlinzani
Currency Advisor & General Manager
---
Inventor of "S" Methodologies
In 1989 he starts his working career in the FX market, as a spot trader at Banco Lariano, Italy.
From 1991 at Banque San Paolo, Paris, as spot trader on italian Lira and french Franc.
From 1992 at Banco Lariano Milano as spot trader on all EMS's currencies.
From 1995 at Swiss Bank Corporation - chief trader in Lugano, Genève and London.
During these years, in addition to specializing on the spot market as market maker, he has developed knowledge of the derivatives market as a positioning trader for the same institute (Vanilla and exotic options), as weel as direct knowledge of currencies linked to emerging countries (carry trades).
From 1998 he comes back to Italy as Financial and patrimony Advisor - President and founder of a FX broker.
From 2009 to today, independent trader on FX market and founder of SAVEFOREX, traders community in which he share, everyday and in real time, his FX operations through daily chat and LIVE webinar.
Curriculum
---
In my life experience, but above all at work, I have never thought of starting to work with my nephew.
And instead here I am, well aware that I made the right choice, in involving him in my business.
Umberto, as a teenager, was an exuberant boy and a little rebellious, like many at that age and I have never imagined that he was passionate about trading.
Well, he began to follow me on my career as a trainer, at events, and began to get passionate about the foreign exchange market.
From there his path literally changed direction. He slowly turned into a young man with good hopes first, and afterwards with excellent certainties, a boy who followed a respectable training path, graduating in economics (while working full-time for a company) and quickly passing the exam of financial advisor.
In the meantime he has also become an excellent programmer of trading systems and together we therefore decided to build systems and use them for us.
But his passion for macroeconomics and the foreign exchange market has helped me to find that energy that I was after 30 years of profession and constant trading, losing, and the passion for training and content distribution.
So here we are, starting a new adventure, providing trading systems and spending days with my group of traders who for years (10) have been following me constantly in daily operations.
Good luck dear nephew (for me a son), no goal is precluded.
Saverio Berlinzani
SAVERIO & UMBERTO
From 2017 Saverio and Umberto collaborate for the developing of automated FX systems.
In a market, increasingly driven by algorithms and mathematical models, our model becomes an attractive tool for portfolio diversification, to generate solid absolute returns year after year. Anyway, our systems are constantly monitored and helped by discretionary systems, that could help to protect the portfolio during recession and periods