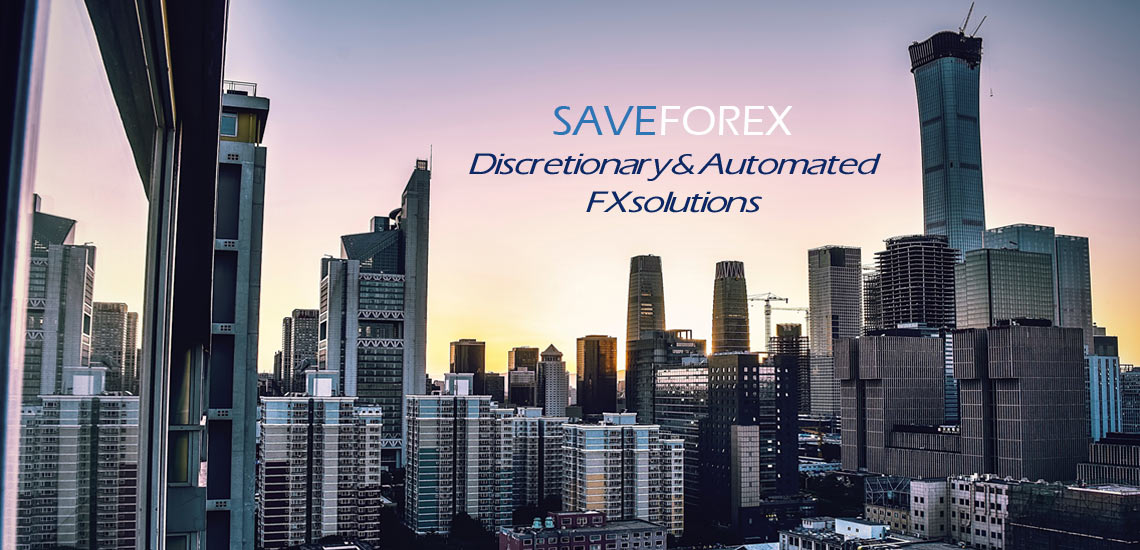 We offer appropriate solutions to both discretional and quantitative traders, in order to achieve one goal:
The professional and economic growth of our clients
Trading LIVE
The SAVEFOREX Chat
it is a simple written chat that supports the Webinar, in which you can directly observe Saverio's operations and in which the markets are analyzed from a technical and macroeconomic point of view. This is a general advice on the trend of the currency market, for all traders, beginners and professionals.
The SAVEFOREX Webinar
It is a platform in which you can hear Saverio's voice and see his desktop, while Saverio analyses and trades the markets in real time. It is a REAL FX trading school!
Certified Account
You can see Saverio's results certified by FX Blue. Low drawdowns and extremely low leverage (far less than 1!)
Trading SYSTEMS
Fully automated systems
Appropriate to traders who need to optimize their time by not observing all day their monitors and charts. They are trading systems (softwares) that are directly put into the MT4 platform of the client and are meant to work 24 hours a day.
Semiautomated systems and tools
Trading systems in which the client only chooses the entry point, while money managament and position sizing are fully automated. Moreover, we offer tools that help traders during their daily operations.
Assistance and LIVE Trading
The trader who chooses to join in SAVEFOREX community will never left alone. Our team is constantly monitoring our trading systems and provides the clients with continuos updates. Furthermore, subscribers of CHAT and WEBINAR can directly observe Saverio's trading systems operations, learning how to manage them like a professional.
Trading Academy
Morning Briefing
Discover the market sentiment and daily insights through the morning brifing of Saverio Berlinzani. News, institutional views, macroeconomic analysis and more.
Saveforex Courses
16 hours of online courses available
FX Basic Course
FX Hedging Course
Macroeconomics Course
News
01/05/2019 - Saveforex è lieta di annunciare la nuova collaborazione con ICE MARKET PARTNERS LLP. La
nuova partnership è mirata alla produzione e vendita di expert advisors (software) per la clientela retail ed
istituzionale, all'interno del territorio italiano
---
Why SAVEFOREX?
A Trader often feels alone and has to take decisions about buying or selling an instrument often in perfect solitude. Saveforex is a COMMUNITY of TRADERS in the FX market, born in 2009 by the foresight of Saverio Berlinzani, one of the most famous italian master choaches, who knew the difficulty of beginning without any support. Saveforex is created to satisfy the following needs:

Trade with the help of professional people and not by yourself
Share your PASSION with other people who love this job
Amplify your market vision
Real time news, daily morning briefing and the possibility to share your personal views to the community
Improve your trading skills
You will be able to acquire in-depth information through COURSES and through the daily operational showed in chat
Control your emotions
Preserve your psychological capital in the medium-long term, by simly reducing risks, to face the market volatility with serenity and tranquillity
Get a guide
There is the possibility, only for subscribers, to control Saverio's operation in REAL TIME.
SAVEFOREX
is a
WINNING COMMUNITY.
Join us and
PARTICIPATE
.
---
How does it work?
It is possibile to follow the LIVE trading sessions of Saveforex through the chat and webinar (gotomeeting platform, you do not need to download the software, the access is direct from your reserved area). You can require a FREE-WEEK period, after which you could choose to continue with the purchase or to say goodbye. To acces the chat and webinar we ask you to REGISTER. You will receive your login codes by email.
Forex Community
This website is born with the intention of divulging FX trading, though our daily chat and webinar, to share in REAL TIME and on LIVE MARKETS our trading methodologies, starting from the morning to the evening.
---
DISCLAIMER
This website has not to be considered as a personal financial advisoring service and it is not a solicitation to public savings. The indications in these pages are techincal and for information purposes, and they have not to be considered as a forecast of the analyzed financial instruments. The sponsored material is based on a technical-graphic model and it cannot replace the free judgement of the investor, who acts at his own risk. The operations done by clients are to be considered at their proper risk and we decline any responsibility which could derive from their operations and their direct personal observance. We would like to emphasize that all financial products traded on margin carry an high degree of risk to your capital. They are not suited to all investors, please ensure that you fully understand the risks involved. It is possible that anyone who writes on this website is directly interested about the financial instruments analyzed. The activity of this website is not a personal advisoring as indicated on art.1 comma 5 septies of the Legislative Decree 58/98, modified by Legislative Decree 167/2007. We do not know the characteristics and the financial experience of readers and clients, referred also to their patrimony, income, savings and risk tolerance. This website is not a newspaper. Even if we pay the utmost attention to the correctness of the publications, it is not possible to exclude the absence of any kind of error on what is published, on what is directly generated by our online or offline products and on published data and quotations. Furthermore, it is not possible to introduce any kind of control on thruthfulness and correctness of news and reports reported on several section of the chat/webinar/website. The utmost care is taken in order to distribute the various services; however, neither Saverio Berlinzani nor his internal collaborators can be held responsible for errors, delays and omissions of publications, occasional or prolonged. We decline any form of responsibility for the reliability and accuracy of advertising, informations, products and distributed data, contained or proposed in the form of links or dowloadables as files in the framework of the servicees offered on the website. The webiste ensures and guarantees users the protection of online privacy, and the utmost attention to personal data protection needs of its users. Users personal data are not transferable to third parties. Browsing the site is anonymous. The collection of personal data takes place exclusively by filling in the registration request for access to password-protected restricted areas. The subscription to the services offered in the reserved area is perfected, according to the rules contained in Legislative Decree 206/05, after payment of the same and provides for the right of withdrawal by the user within 10 (ten) working days from the date starting date of the subscription. The withdrawal can be communicated by e-mail and provides for the full refund of the amount paid by the user. This right does not apply to subscriptions renewed later after the first expiry.